우수과외사례소개
성통만사 회원님들의 우수한 과외 사례를 소개합니다.
교사:강동현 // Teacher: Dong Hyun Kang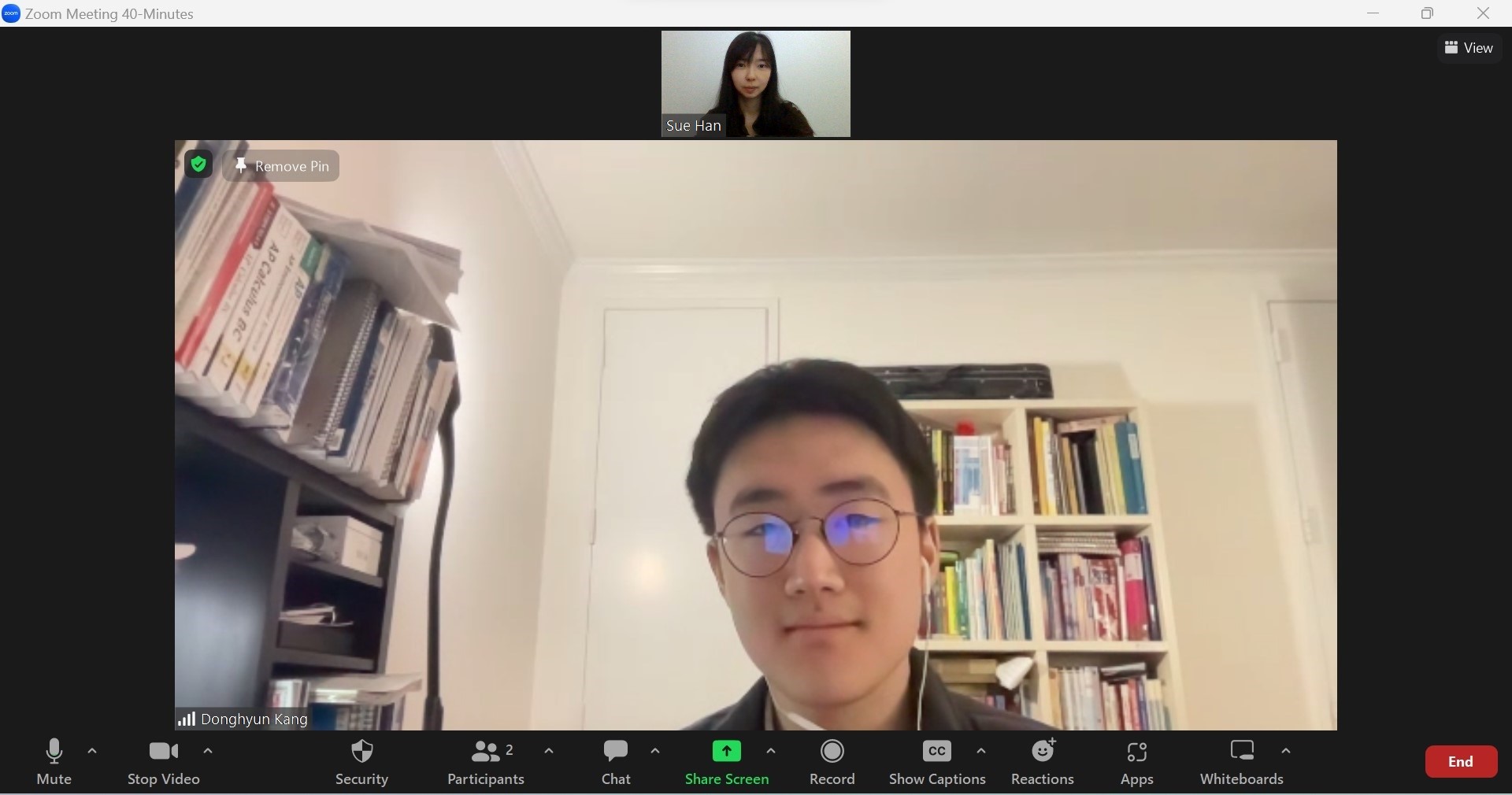 How did you find out about PSCORE's volunteering program? What inspired you to start tutoring?
Well initially what kind of motivated me was my past experience visiting social centers and interacting with Americans who had difficulties communicating in English. This inspired me to volunteer for Koreans residing in Korea. So, I was just browsing for opportunities to help such people and I found PSCORE's website which really caught my attention. 
What does the process of tutoring look like for you?
Initially I only taught on Saturdays at 10PM or 11PM local time but right now we hold classes on Wednesdays and Saturdays. The class usually starts at noon in Korean time and lasts until 1PM on Wednesdays and 2PM on Saturdays. My study sessions with my student highly rely on the presentations that I make so for mathematics for example, the class that I teach on Wednesdays, we briefly take some time to focus on the concepts and then for the remainder of the time we usually do problem solving. There are some limitations to Zoom classes so I try my best to make my student as engaged as possible by going through all the procedures, and asking him questions about the maths problems. For English classes on Saturdays, we usually start with a short 5 to 10 minute English quiz consisting of translation questions. Then we learn new vocabulary for the next class and we mostly focus on grammar and speaking. Unlike maths classes I try to make the explanations as long as possible because I think it's really important to build strong foundations. And then we do some speaking/casual talking and then we end the class.
In what way is this experience most rewarding for you?
Well, I've lived in different countries like the United States, Argentina, Nigeria and South Korea and by using these foreign experiences I try to make my classes more interesting by explaining other countries' cultures, cities and environments that do not exist in Korea. It is really rewarding and fun when my student keeps asking me questions such as "What is the culture like?" and saying "Oh, I would really like to visit!" because he kind of reminds me of myself when I was really young and curious about how people lived outside of Korea. 

What is your favorite memory as a tutor?
There is really no specific memory but as a whole it's really a great pleasure to see my student become more interested in the topics that I cover with him. So from a student who was really only able to answer simple vocab questions when we first met, he's now able to solve various grammar problems and have middle school level conversations which is pretty impressive. Also, he has shown great improvement in building personal relationships. Initially he was very shy with me and would only speak to participate in class but now he talks about how his life is going and I feel like I've made a very good friend. 

What makes life liveable for you? Something you find important or motivational in life?
I'm a huge fan of musicals and movies, the passion and all the effort that the crew and the actors put into production really motivates me. It makes me think about who I should be as a person and what I should pursue in the future. Also, their resilience as well as the pain that they persevere through makes me respect and admire them. 
I think what is really important in my life is probably embracing diversity and differences. Throughout my life, through my foreign experiences, I've met a lot of people from different backgrounds and apart from the obvious racial, ethnical and ideological differences, people's opinions and lives can differ so much. It's interesting to learn about these differences when you make conversation and do other social activities together. I think that not only personally, but as a world, as a whole, people should embrace each other. This would make our school, our community and the world a better place. 
━━━━━━ ◦ ❖ ◦ ━━━━━━
PSCORE의 봉사 프로그램에 대해 어떻게 알게 되었습니까? 과외를 시작하게 된 계기가 있나요?
과거 소셜 센터를 방문하여 영어로 의사소통을 하는 데 어려움을 겪는 미국인들과 교류했던 경험이 먼저 동기부여가 되었어요. 이 경험은 제가 실제 한국에 
살고 있는 한국인들을 위해 봉사하는데 영감을 주었습니다. 이런 분들을 돕는 기회를 잡기 위해 인터넷 서핑을 하던 중 PSCORE 웹사이트를 발견하게 
되었고, 제 관심을 끌었습니다.

어떤 식으로 과외 수업을 진행하시나요?
처음에는 보통 토요일에 10시 또는 11시에 수업을 했지만, 지금은 수요일과 토요일에 진행합니다. 보통 이들수업은 한국 시간으로 정오에 시작하여, 
수요일에는 1시간, 토요일에는 2시간 동안 진행됩니다. 학생과 함께하는 스터디 세션에서는 보통 제가 만든 프레젠테이션에 많이 의존합니다. 
예를 들어, 저는 매주 수요일에 수학수업을 가르치는데, 간단히 개념을 설명하고 나서 나머지 시간은 문제 해결에 집중합니다. Zoom 수업에는 제한이 
있기 때문에, 수학 문제에 대해 학생에게 질문을 하며 최대한 적극적으로 참여할 수 있도록 노력합니다.토요일에는 영어 수업을 진행하는데, 보통 5~10분간 
번역 문제로 구성된 짧은 영어 퀴즈로 시작합니다. 이후다음 수업을 위한 새로운 어휘를 배우며, 주로 문법과 대화에 초점을 맞춥니다. 수학 수업과는 달리 
저는 기초를 튼튼히 하는 것이 정말 중요하다고 생각하기 때문에 가능한 한 길게 설명하려고 노력합니다.  이후 잠깐의일상적인 이야기를 나누고 난 뒤 수업을 
마칩니다.

어떤 면에서 이 경험이 가장 보람이 있습니까?
미국, 아르헨티나, 나이지리아 그리고 한국과 같이 다양한 나라에 살아온 제 경험들을 바탕으로 한국에서 접할수 없는 타국의 문화와 도시, 환경 등을 
수업 시간에 이야기해주면서 수업을 좀 더 흥미롭게 만들었어요. 학생이 "그 곳의 문화는 어때요?", "거기 정말 가보고 싶어요!"와 같은 반응을 보일 
때마다 보람차고 재미있었고, 제가 어렸을 때 한국 밖의 세상에 대해 궁금해했던 기억을 떠올리게 하기도 했습니다. 
과외하시면서 가장 좋았던 기억은 뭔가요?
특별하게 기억에 남는 순간은 없지만, 전반적으로 제가 준비한 주제에 대해 학생이 좀 더 흥미를 가지게 되는걸 볼 때 큰 기쁨을 느꼈어요. 처음 만났을 때 

학생은 간단한 문법 관련 질문에만 답할 수 있었는데, 지금은 다양한 문법 문제들을 풀 수 있게 되었고 중학교 수준의 인상적인 대화를 할 수 있게 되었습니다. 
인간관계를쌓아감에 있어서도 많은 발전을 보였어요. 처음에 학생은 매우 수줍어하고 수업에 참여할 때만 말을 했는데 지금은 자신의 근황에 대해 곧잘 
이야기를 나누고 있어 저는 정말 좋은 친구를 얻었다고 생각합니다. 
선생님의 인생에서 소중하거나 동기부여가 되는 것은 무엇인가요?
저는 뮤지컬과 영화의 열렬한 팬이며, 제작진과 배우들이 작품 제작에 쏟는 열정과 모든 노력들은 제게 큰 동기부여를 줍니다. 제가 어떤 사람으로 성장해 
나가야 하는지, 앞으로 무엇을 추구해야 하는지 생각하게 해요.또한 그들이 이겨내야 할 고통과 인내력은 그들을 존경하게 만듭니다.

제 인생에서 가장 중요한 것은 아마 다양성과 차이를 포용하는 것일 것입니다. 외국 경험을 통해 다양한 배경을 가진 많은 사람들을 만나봤는데, 인종, 민족, 
이념적 차이 외에도 사람들의 의견과 삶의 방식은 너무나 다양합니다. 사람들과 대화를 나누거나 사회 활동을 함께 하면서 이러한 차이점들을 배우는 것이 
흥미롭습니다. 저는 개인적으로 뿐만 아니라 전 세계적으로 사람들이 서로를 포용해야 한다고 생각합니다. 그렇게 함으로써 우리 학교, 지역사회, 그리고 세계가 
더욱 나은 곳이 될 수 있을 것입니다.
※  Donate for North Korean defector students http://pscore.org/donate/
※ 북한 탈북자 학생들을 위해 후원해주세요 http://pscore.org/donate-ko/
Interview: March 17, 2023 // 인터뷰: 2023년 3월 17일
Copyright ⓒ PSCORE 무단전재 및 재배포 금지