우수과외사례소개
성통만사 회원님들의 우수한 과외 사례를 소개합니다.
[교사/Teacher] 마리 / Marie Silvan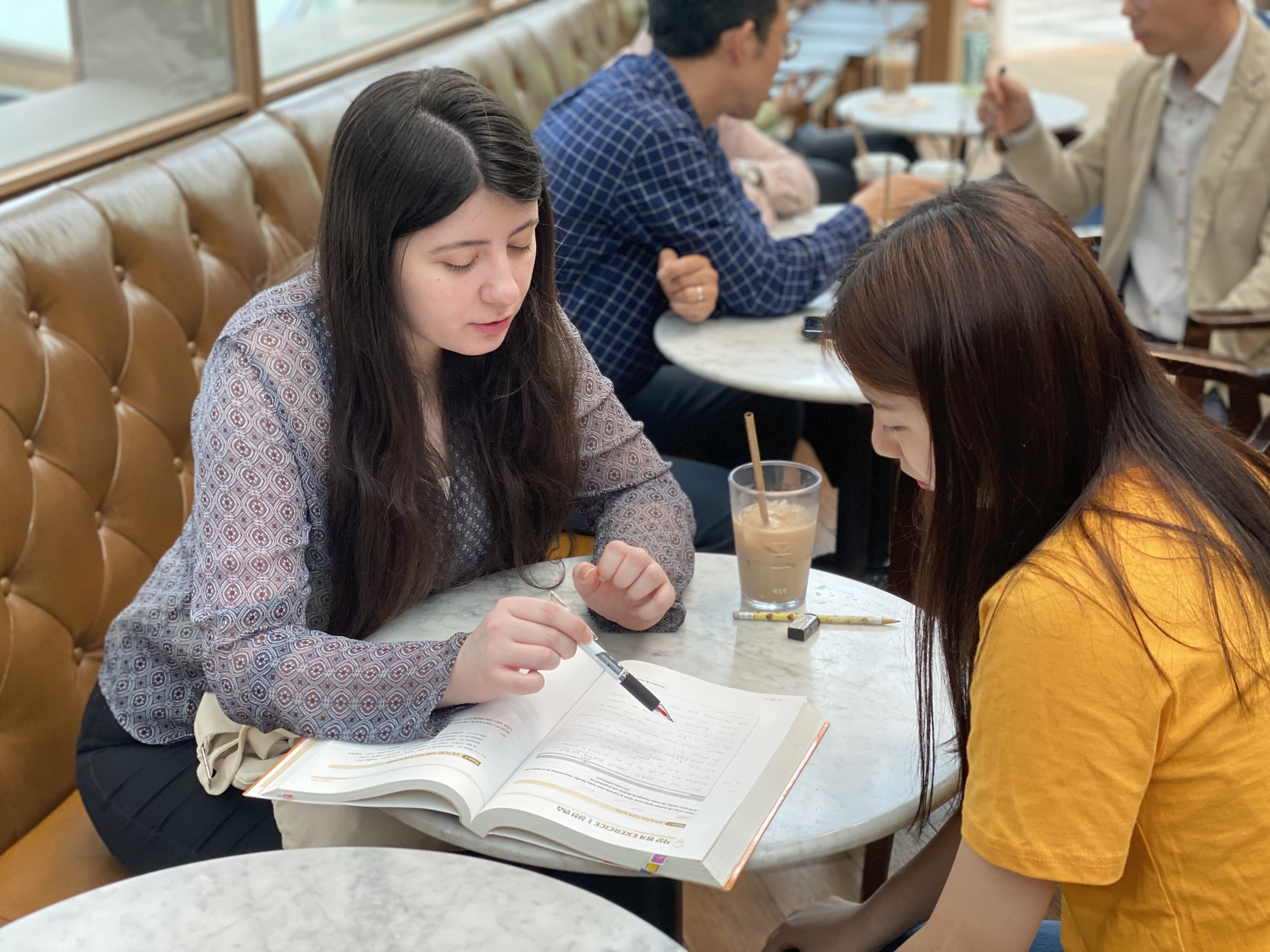 Marie has recently completed an internship for her master's degree at PSCORE and she had the opportunity to tutor one of our students in French, Marie's mother tongue. She majored in Foreign Languages, specializing in English and Korean, and studied Korean History. Therefore, Marie was familiar with North Korean refugees and the human rights abuses in North Korea.

When Marie found out about PSCORE's internship program through a fellow student's story on her university's website, she did not hesitate to come to South Korea. She was strongly motivated to help others, which was one of the reasons why she chose to work at PSCORE and contribute to the tutoring program.

Marie said that coming to South Korea and teaching with PSCORE was one of the most important steps of her life. She explained how it was a great opportunity to get to know herself through helping others, as well as to learn more about South and North Korea for future studies. Gaining knowledge empowers students and can be the best investment for a successful career. She was able to help her student to learn French through the PSCORE tutoring sessions.

For about 4 months, Marie and her student met once a week, on weekends. Jeong is a student in her final year of high school and is busy preparing for the university entrance exams. Although she was a bit shy and needed some time to get into conversation, she worked hard to learn French and was a diligent student. She also understood her mistakes quickly; Marie found it rewarding to see Jeong improve conversationally, both in her vocabulary and delivery.

"My student is learning French and studying for the DELF A2 (Diplôme d'études en langue française, English: Diploma in French Language Studies), which is the exam for non-native speakers of French to check their French language abilities administered by the International Centre for French Studies. She already has a strong knowledge of grammar and she's improving her vocabulary day by day. During each class, I looked at short writings she did during the week, and we went over any mistakes she could have made. The goal is that she's able to see her own mistakes, something she became really good at, and I also tried to understand why she did those mistakes and explain the notion with a bit more details. Then, we focused on conversation, which was the main goal of our tutoring, because she may not have the opportunity to interact with French native speakers that often. We talked about various subjects for a while and then focused on one where she wanted to gain more vocabulary or be able to talk more easily about".

After the 4 month sessions Marie and Jeong became close to each other, and built a warm relationship. "I think we were close to a certain point", Marie says. "Because we talked a lot in French, exchanged information and stories and got to know each other. I will never forget this precious experience when I'm back in France".

We are proud to announce that Jeong successfully passed the DELF A2 exam after the tutoring program. PSCORE will continue supporting Jeong in the steps she will take to build her future.
※  Donate for Jeong and North Korean defector students http://pscore.org/donate/
※ 북한 탈북자 학생들을 위해 후원해주세요 http://pscore.org/donate-ko/
※ 인터뷰: 6월 17일, 2020 // Interview: June 17, 2020
Copyright ⓒ PSCORE 무단전재 및 재배포 금지